ASB International, India Products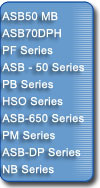 Characteristics

This integrated one-step machine performs both preform injection  molding  and
blow molding. With sufficient injection  mold  clamping  capacity,  the   machine
can mold both narrow and wide mouth containers, making it possible to produce
a wide range of products.


Product

Shape

PET containers with round, oval or rectangular cross-sections, with or without
handles, wide mouth jar and containers  of other  resins  including  PC and  PP.

Application

PET containers for  beverages  (carbonated beverages, fruit juice, tea leaves,
mineral water, etc.), edible oils, toiletries, soaps, detergents, & containers  of 
other resin including PC and PP.

Size and quantity

Depending  on  type  and   container  application, sizes  ranging from 30 ml to
7 litres  are   available.  The  output  varies   depending  upon  the  container 
size and design.