Nissei ASB, Japan Product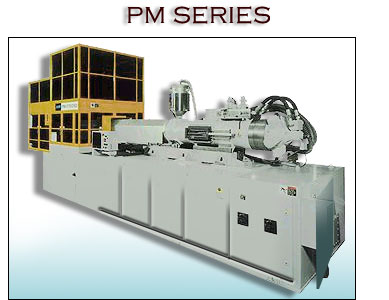 Preform molding machines: PM Series

Typically a high volume Two-Step PET bottle production line requires significant
investment in large-scale  preform  injection molding  machines and a  team  of
highly  skilled   personnel   to   operate    the    system.   Generally,  economic  
considerations for the  investment   size  force smaller Two-Step operations to
purchase preforms from outside.
With  the  launch  of    ASB's  PM    Series    preform  molding    machines, the 
Two-Step bottle producer now has a cost-effective alternative to  purchasing 
preforms. The new PM Series machines are  in  keeping  with  ASB's philosophy
of competitive pricing, are very compact for their output  and   the   molds are 
designed for easy changeover to provide added flexibility.  Together  with  the
NB Series  reheat  blow-molding    machine,   or   the    HSO    hot  fill   bottle 
molding  machine, the  PM  Series  machines  are  ideal to  form an  integrated 
PET bottle production line.
Characteristics 

These  dedicated  preform   molding  machines  utilize  the   advanced  molding
technology developed  through our One-Step  molding machines. Consisting  of
the  preform molding system from the One-Step mass  production PB  Series, it
delivers the performance needed with excellent  stability  and economy.  When
used  together with the NB Series reheat blow molding  machines or   the  HSO
Series heat-resistant blow  molding machines,  the    result  is   an   integrated
production line that delivers defect-free, beautiful PET containers.
Product

Preforms can be  produced   for  final  bottle   sizes   from  500 ml  to  5  litres
depending  on  type  &  container  application.  The number of cavities  ranges 
from  4 to 32.


Model line-up
| | | | |
| --- | --- | --- | --- |
| • | PM-45/50 | • PM-85/110 | • PM-170/280 |
| | | | |